DECORATIVE DRAPERY
Décor is the building block of design, unique to each event and space. As the demand for more personalized branded events and experiences grow, custom décor is needed to help create bring these designs to life.
We work with designers and production companies to create stunning décor and scenic elements they need to take their design from rendering to reality. From simple curtains and backdrops to elaborate décor with complex designs, patterns, and shapes, we have the raw materials and a talented team of fabricators who have done it all!
We build to your specification, ensuring a smooth installation. We love a good challenge! Send us your design and let's get started today!

Curtains
Scenery
Backdrops
Ceiling Treatment
Swags
Chandelier
Interior Decor
Event Decor
Retail Merchandising
Space Dividers
Specialty Signage
& Branding

Award Show
Galas
Movie Premiers
Weddings
TV & Film Productions
Stage Productions
Brand & Marketing Events
Trade Show & Exhibitions
Restaurants & Retail
Disk Curtains
Disks are made from 100% PVC and are NFR. Each disk is linked together by a small metal ring. Strands are comprised of alternating 10cm and 5cm disks. Standard vertical spacing is 1 ½". The top can be made to your specifications.
Available In:
– Mirror Metallic Gold
– Mirror Metallic Silver
– Matte White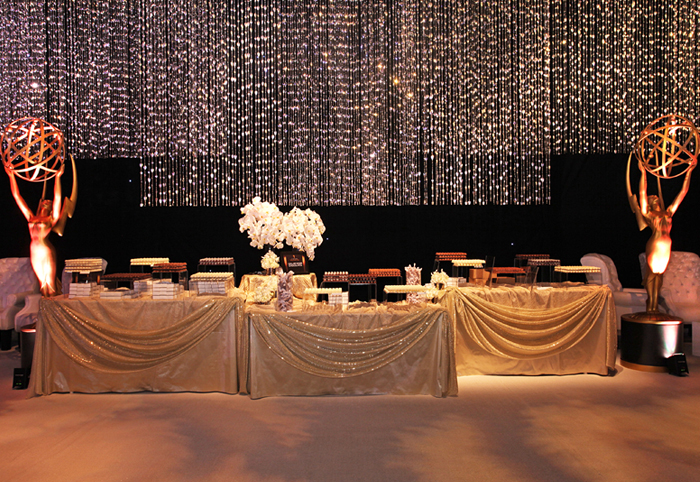 Bead Curtains
Beads are made from 100% Acrylic and are NFR. We offer a variety of bead shapes, styles, and colors to create everything from elegant swags, backdrops, and chandeliers. All are custom made to your design.
Available In:
– Silver
– Gold
– Iridescent
String Curtains
String Curtains provide a soft, semi-translucent, modern look to any event or stage production. They come in a wide variety of colors that can be cut and sewn to create; curtains, chandeliers, exhibitions, interior décor, projection and lighting surfaces.
ChromaLink™ Chain Curtains
Made from 100% Aluminum, ChromaLink™ Chain create stunning chandeliers, room dividers, stage and event curtains, projection surfaces and interior décor! Multiple colors can be linked together to create unique patterns, shapes, and logos.
Popular Colors:
– Silver
– Black
– Gold
Rain Curtains
This fun classic has evolved over the decades from a funky backdrop, to creating some of the most elegant and shimmering event curtains and brand activations. With strands as thick as 1/8" up to 1" and in a wide selection of colors, finishes, and textures.