STAR DROPS
Star Drops are traditionally used in stage productions to create a starry night sky. Over the years this classic stage backdrop has evolved into a design tool used to create everything from event décor to ceiling treatments, museum exhibits and immersive themed environments. For over 30 years we have grown to become the premier North American manufacture of custom Star Drops.
We work with production designers, art and technical directors, scenic fabricators, and production companies on a variety of star drop based projects. From traditional Black Velour Star Drops for stage and television productions, to creating one-of-a-kind scenery integrating Star Drop components. We'll work with you and your team every step of the way, from system selection and star field design to fabrication and installation. Contact us today to discuss your upcoming project.

Backdrops
Tent Linings
Perimeter Masking
Ceiling Panels
Scenery
Interior Décor
Event Décor

Stage Productions
Special Events
Museums
Award Shows
Movie Premieres
Immersive Environments
TV & Film Productions
Exhibitions
Brand Events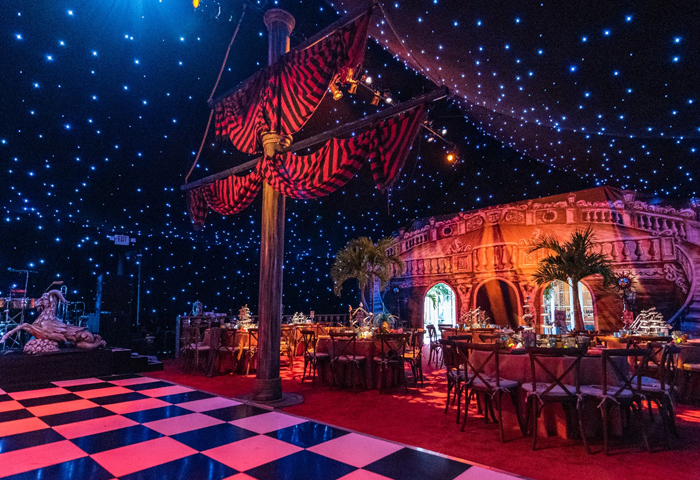 White LED
Never has an artificial sky looked so realistic! ShowLED Classic LEDs are bluish-white and attach using a Velcro Washer adhered to the fabric. LEDs are divided into multiple, individually programmable circuits.
Features:
– Dimmable, lightweight, easy to program and maintain.
– Random LED patterns or create your own layout .
– DMX & Stand-Alone Control via ShowLED ConBox Controller.
– Solid Color Classic LEDs are also available.
– Standard LED Density is 1 per 1.5 SQFT.

RGB LED
Create a galaxy of colors and effects using the ShowLED Chameleon star drop system! The RGB LED is attached to a Velcro socket that is adhered to the backside of the fabric. Each circuit can create its own color, allowing endless looks and the ability to integrate it with your production lighting and scenery.
Features:
– Dimmable, lightweight, easy to program and maintain.
– LEDs are placed in a random pattern or design your own layout.
– System can be controlled via DMX or in Stand-Alone mode via the ShowLED ConBox Controller.
– The LEDs are removable from the front, making repairs quick and easy.
– Standard LED Density is 1 per 1.5 SQFT.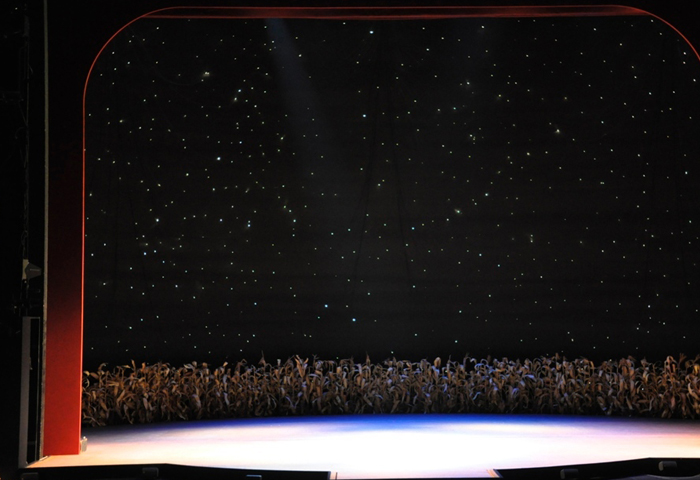 Fiber Optic
Create crisp, sharp, defined points of light using Fiber Optics. We use .75MM Endpoint Fiber Optics that are illuminated using the DiCon RGBW LED FiberLamp. Patterns, Logos, and Chase Effects can be created.
Features:
– All circuits are finished with a 30MM twist lock ferrule.
– Fiber Optics are inserted in a random pattern. Logos, patterns, and effects available.
– Fiber Optics available is sizes from .75mm to 3.0mm.
– Fibers are uncoated and made from PMMA acrylic.
– Standard Fiber Optic Density: 3 Points of .75MM per SQFT
Incandescent
A classic, retro look using traditional incandescent light bulbs. All bulbs screw into a 6-s-6 candelabra socket that is attached to the fabric using an oversized grommet. Bulbs are broken up into multiple circuits and can be controlled through a dimmer pack.
Features:
– 6W Twinkle & Solid Bulbs Available.
– Solid Color & Classic Incandescent Bulbs.
– Bulbs are laid out in a random pattern. Custom patterns and layouts available.
– Sockets are dimmable. Each circuit is finished with a three prong Edison plug.
– Standard Bulb Density: 1 per SQFT

Star Drop Repair
Don't toss it! Repair it! If you have a Star Drop that has seen better days (or nights) contact us to see if it can be salvaged. Often the star drop components are still in decent condition and can be reinserted into a new drop.
Features:
– Fabric patching to full drop replacement.
– Fiber Optic, LED, and Incandescent Systems.
– Replace with new IFR Polyester or FR Cotton Velour
– Ship us your drop for a free inspection and estimate.
– Strike & Installation Services Available.